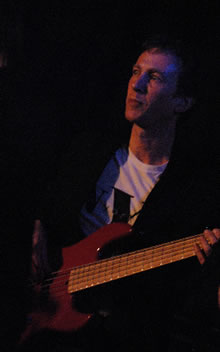 Lucien was born in 1964 in Eindhoven, the Netherlands. At the age of 15 he started his musical career studying the classical guitar. He decided to switch to electric bass after hearing Jaco Pastorius with "weather report" at a concert in Amsterdam.
In the eighties Lucien was a member of Tilt, a band that was especially successful accompanying a variety of Dutch artists such as Lee towers and Anita Meijer. During the same period Lucien joined the theatre group "Teklin" as an actor and a multi instrumentalist.
After a two year intermezzo in the nineties studying urban planning at the university of Nijmegen, Lucien decided to devote his professional live to music and he graduated on light music for contrabass and electric bass at the conservatory of Arnhem in 1995. Luciën attended masterclasses with Marc Johnson, John Clayton, Hein van de Geyn, Renaud Garcia-Fons, David Friesen en Jesper Lundgard.
Lucien co- founded the "Henning Wolter Trio" in 1991( Henning Wolter on keys and Marcel Van Cleef on drums)The trio is still active in jazzclubs and festivals in Germany, Holland and Belgium. Originally inspired by the Keith Jarrett Trio and the Bill Evans Trio, they soon evolved their own sound. The Henning Wolter Trio has produced 6 albums (see page Audio): Voyager(1996), Two Faces (1998), Years of a Trilogy (2001), Plan X (2004), Illusion (2005) and Le Grand Spectacle (2008).
Luciën's international experience also covers performances in cities like los Angeles ,Tokio and Seoul with the rock band `Terra Nova`. Lately Luciën is often seen in the jazz-scene, playing with Eric Vloeimans, Gerd Dudek, John Engels, Masha Bijlsma, Wiro Mahieu, Bobby Gantt, Michiel Braam, Frank Nielander, Jeroen Doomernik, Willem Kuhne, Pierre Courbois and many others.